LSD Membership
The LSD only accepts adults as members, and admission to the School is at the discretion of the head instructor. Prospective members may attend two lessons before a decision is made as to whether they are invited to pay membership fees and join. Prospective members should contact the LSD before attending their first class; this helps us provide suitable equipment and instruction, and ensures that you can gain access to the venue.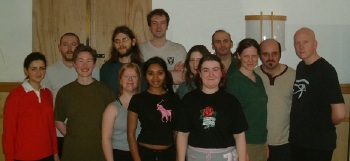 Fees
Fees are currently set as follows:
£20 for insurance (annual). Members' full address and photograph is required, and members will be supplied with an insurance certificate and ID card. This is the equivalent of the "licence" usually required by martial arts governing bodies.
£26 per month by standing order or £3 per hour if paid in cash after class. Those paying by standing order may attend all sessions at no extra charge.
The payments cover hire of the hall, provision of public liability insurance necessary to run the session on university premises, provision and maintenance of equipment and running of the website. Advanced payment helps us meet these fees by ensuring that a known income is available, but it is not compulsory to pay this way.
BFHS Affiliation
The Linacre School of Defence is a member of the British Federation for Historical Swordplay, therefore LSD members may attend BFHS events.