Le MAITRE D'ARMES ou L'EXERCICE DE L'ÉPÉE SEULE DANS SA PERFECTION. Dédié ã Monsiegneur LE DIC DE BOURGOGNE, Par le Sieur DE DIANCOUR. A PARIS, AVEC PRIVILEGE DUE ROI. Et se vendent A AMSTERDAM, Chez DANIEL DE LA FEUILLE, prés de la Bourse. M. DC. XCII.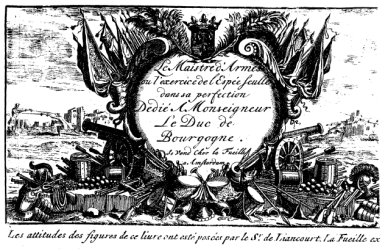 Author: Le Sieur de Liancour
Published: 1692

The HTML version is an English translation by Elise Darchis (2007) and the PDF is in the original French. We also have a .doc containing an English version with images, by Carlo Parisi.
Format: HTML
Format: PDF
Format: DOC